HOW TO IDENTIFY THE DIFFERENCES BETWEEN 2D, 3D, AND A 4D MASSAGE CHAIR:
If you have been looking around for massage chairs, it is evident that you have come across some words that went right through your head.
As we all know, massage chairs provide immediate relief from muscle pain and help them relax. Not only that, but massage chairs can also be handy when it comes to dealing with mental pressure and stress. Massage chairs do an excellent job in delivering peace and comfort even during a hectic day.
Massage chairs are also perfect for those gym enthusiasts who crave a worthwhile massage after a demanding workout routine. Moreover, the massage chairs shall aid in reducing muscle soreness and reduce inflammation.
Hence, today we'll be looking at various iRest massage chairs and ootori massage chairs to find out what each one of them has to offer.
· 2D MASSAGE CHAIR:
For someone who isn't looking for an intense massage, you would enjoy using a 2D massage chair. Back then, almost all the massage chairs were 2D or two-dimensional. It wasn't until now that 3D and 4D massage chairs came into play.
2D massage chairs have rollers that move in two dimensions, up and down from your neck to the lower back. These rollers also move side to side. It alleviates back pain, eases sore muscle pain, and improves wellness all over.
It works on your surface muscles and back without deep-seating the muscles underneath; also, these rollers are the least intense.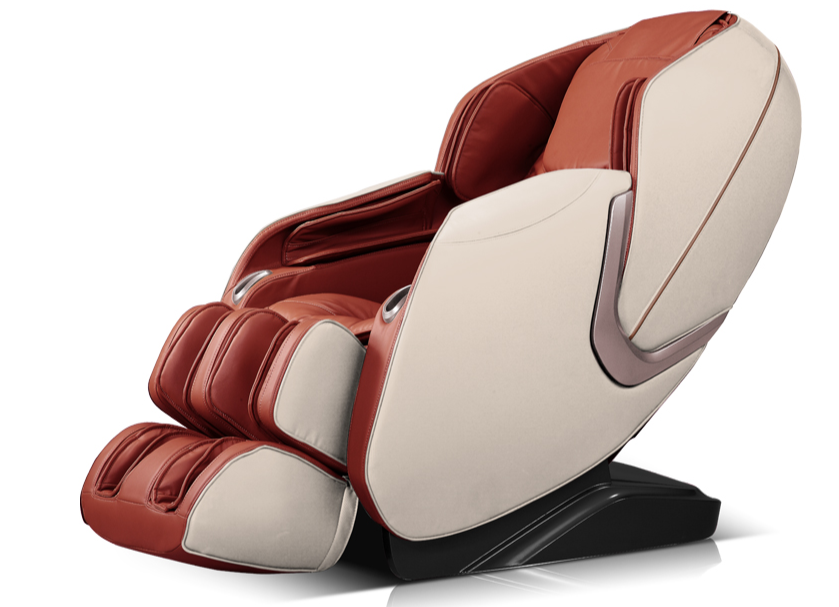 iRest's A300 Intelligent Massage Chair comes in a rust orange color alongside off-white on the lower. It has a unique 2D massage system that combines professional massage techniques with massage chairs. This helps them achieve the multi-dimensional massage that you'll love after a long day of work.
Read more about iRest's SL-A300 Massage Chair and discover its lovely features!
· 3D MASSAGE CHAIR:
3D massage chairs are a more intense and expensive option. A 3D massage system takes the 2D massage system a step forward. The majority of massage chairs that are bought and used are 3D massage chairs.
What makes these chairs more acute are their rollers that target the upper shoulders and neck. These rollers can further protrude out of the track and reach places typically ignored by the average chair.
3D massage chairs don't have a hard time penetrating your muscles. Therefore, a 3D massage chair is a must for you to enjoy a deep massage usually or after work.
Rollers are what count the most in a massage chair. And 3D massage chairs don't disappoint. You can adjust the intensity to make your massage as intense, or you can make it gentler. These massage chairs are becoming more and more popular because of their ability to mimic human actions and massage the body wherever wanted.
Ootori's RL- 900L Massage Chair that comes in a jet black color features six automatic massage programs with gentle yet firm massage rollers. It also consists of the L-track, an extended roller track, and an extension of the S-track. The S-track follows the spine's curve moving up and down from the neck to the lower back.
· 4D MASSAGE CHAIRS:
The latest release is the 4D massage chairs that possess almost the same technology as the 3D massage chairs and 2D chairs but have more adjustability.
4G massage chairs are nothing ever seen before. They have been programmed to speed up and down during the massage stroke. The rollers can move up the back, pressing into the tissue in a circular motion. In a 4G massage, the rollers can speed up and down automatically to concentrate on tense muscles of the body.
Hence, 4D massage chairs offer ultimate control over the massage strength and delivery for the most humanistic and customizable massage. Many of the 4D massage chairs contain the feature of L-track, which means they can attend to your hamstrings, glutes and go all the way up to your neck.
With a 3D roller, you'll be able to relish a much deeper tissue massage than any possible massage chair. However, 4D massage chairs take this adventure to an entirely new level with speed variation and firm supervision.
· MASSAGE CHAIRS TO CHOOSE FROM:
Listed below are more options that you can go for if you are looking for functional massage chairs.
iRest offers premium quality and different dimensional technologies with their upgraded massage chairs.
However, the A385 massage chair is a true beauty as it comes in 4 charming colors- Pearl Gray, Champagne Gold, Rose Red, and Coffee. It offers a back massage range, back width adjustment, and an intelligent mechanical massage hand; along with that, it is designed with a swing function and zero space, and a 2G technology.
A385's remote consists of a leg airbag massage option, foot Mastoid Guasha massage option, three memo moods, and 3D digital sound, along with an app download option as well.
Designed for multiple people with six innovative massage programs, A385 also includes individual massage patterns to meet different people's requirements. To gain a better insight, go through SL-A385 Massage Chair's specifications at their website.
Isn't that convenient?
Ootori aims to provide a full-body massage chair with that humanistic touch to its technology.
The Sofia S8 with the tagline- Relax like Royalty, comes in two classicist colors, i.e., Black and White. It also provides zero gravity and space-saving for you to enjoy your time at the massage chair thoroughly.
Alongside yoga stretching and SL track modes, Sofia S8 is an affordable Ootori's massage chair with premium design elements. Equipped with intelligent 3D rollers, the soft quad style mimics the feel of a human thumb, thereby enhancing the massage experience.
You'll love the Sofia S8 Ootori massage chair and have a majestic time, that's for sure!
CONCLUSION:
That is all the information you'll need before buying a massage chair. We realize that when it comes to money, you must make a wise decision with zero regrets.
Getting a massage chair with premium quality and your desired specifications can be challenging. Therefore, remember to do all your research beforehand.
We hope that this post helped you make an informed outcome. Happy Shopping!