Best Massage Chair by OOTORI
The very first massage chair recliner was introduced in the market towards the end of the 1980s. The intention was clear; to match the techniques and motions of a regular massage. Manufacturers claimed that their massage chairs offer relief from tension and stress, and also helps in relieving back pain. From there on, we saw significant progress in massage chairs as the latest ones are available with many advanced features. In this article, we will review the KASPURO A900 massage chair by OOTORI, which is currently one of the advanced massage chairs in the market.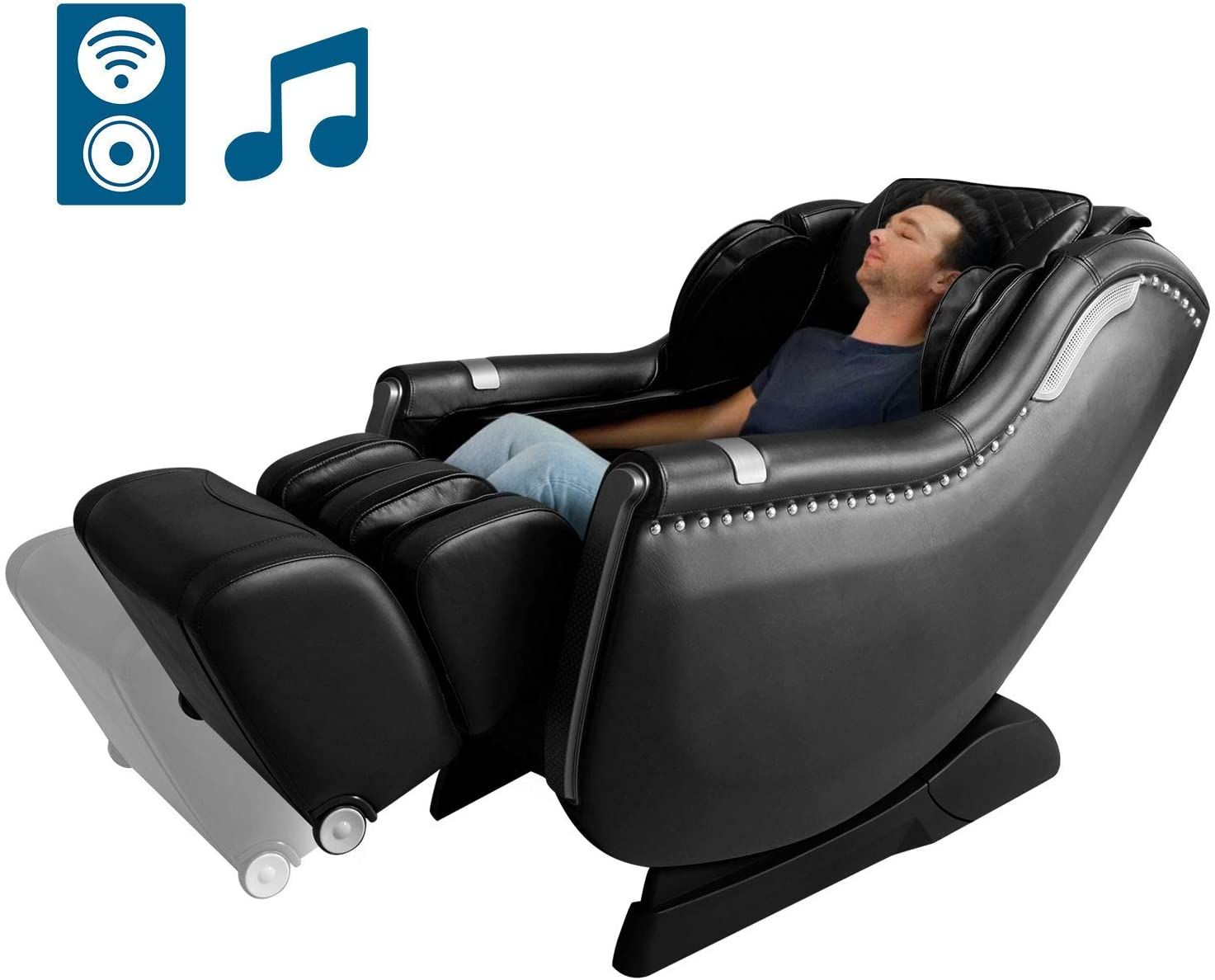 Why Buy a Massage Chair by OOTORI
In the initial phase of the development of these massage chairs they didn't catch much attention from the buyers. It was partly due to the introductory minimal features of the chair and partly because people were not aware of this new technology. But after a decade since their inception, the massage chair technology started to expand with the introduction of some advanced and effective features. Today, various brands, including OOTORI are manufacturing advanced massage chairs for the customers.
Here are the top reasons why you should invest in a massage chair by OOTORI instead of other available brands:
Royalty Design: Most of the chairs by OOTORI give a royal feeling with their royalty design. You can choose from a broad range of high-end luxury and executive-looking massage chairs. Therefore, versatility is an advantage that you would get with their massage chairs.
Competitive Prices: Another interesting thing about OOTORI is that the brand offers high-quality massage chairs at economical prices. Moreover, you would also get a thirty days return offer under their return policy.
Direct Shipment: OOTORI ships massage chairs directly from their warehouse. What does it mean? It means that there are no retailers in the middle who add a little to the actual price of the massage chair. Therefore, the massage chair would cost you less.
Reliable Customer Service: The brand is known for providing 24/7 unparalleled customer service. Therefore, you can get in touch with them anytime you need to inquire about something. We tested the customer service of the brand with a chat, and they were fast to answer.
OOTORI KASPURO A900 Massage Chair Recliner Review
The KASPURO A900 massage chair by OOTORI is a luxurious black leather massage chair recliner with several advanced features. The advanced features, like zero gravity, 3D Robert hand & SL double tracks, wireless connectivity, and multiple auto modes make it special. Let's go through the complete features of this massage chair recliner.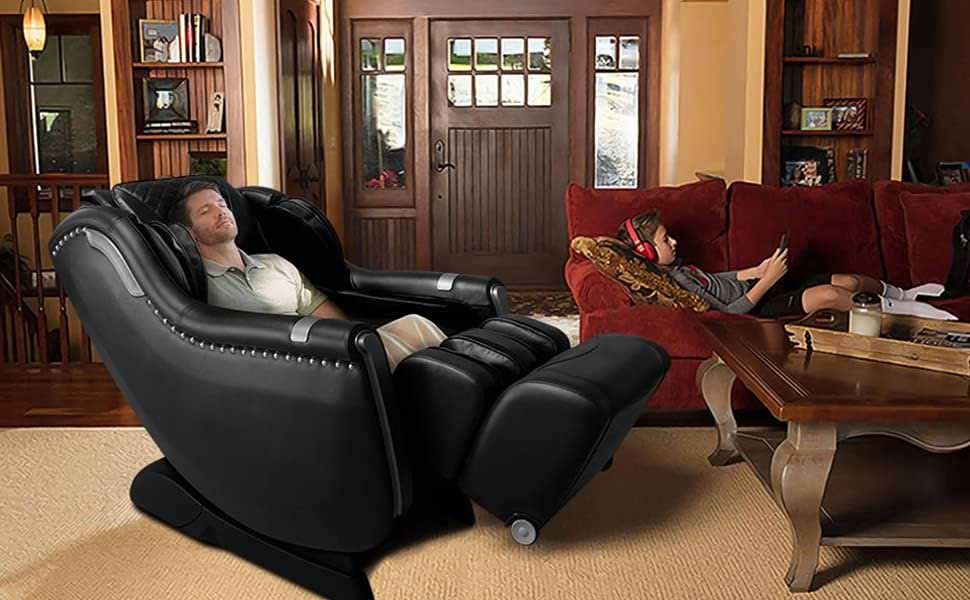 Zero Gravity
The OOTORI KASPURI A900 massage chair comes with a zero-gravity technique. There are three-zero gravity stages; initial, deep, and comfort. Therefore, you have the choice to pick between the three modes, depending on your preference.
Yoga Stretching
Just turn on the auto mode and the massage chair airbags will support your arms, hips, legs, feet, waist, and shoulders. After that, the massage chair will stretch the body gradually. In the meantime, you can enjoy kneading, padding, and shiatsu in manual mode.
Automatic Body Detection
Auto body detection is another great feature of this massage chair by OOTORI. This chair automatically detects the weight, shoulder, and height after you turn it on. After detecting the body, the chair can match the appropriate massage point for you.
SL Double Track
The OOTORI KASPURO A900 massage chair has SL double tracks feature with approximately 130cm. Therefore, you will enjoy a robotic hand massage right from the neck to your legs.
Six Auto Massage Modes
The A900 massage chair recliner has six auto massage modes to relax you most effectively. Therefore, you have the choice to adjust the full-body massage intensity with kneading, shiatsu, kneading & knocking, and more.
Full-Body Air Massage
Airbags are all around the chair on the neck, arms, back, hips, shoulders, feet, and calves area. It helps you get a full-body air massage to relax completely.
3D Robot Foot & Hands Roller
The A900 massage chair by OOTORI comes with three-dimensional massage hands. It helps you feel like you are getting a real human hand massage. The three-row foot rollers of this massage chair offer deep tissue body massage using the gua sha massage therapy technique.
Compact Design
Another great thing we have noticed about this massage chair is its space-saving design. When we start this chair it slides forward, just requires approximately 3.94" near your wall. Therefore, you can keep this massage chair anywhere, like in your bedroom, office, or living room, etc.
The A900 massage chair recliner has a high-quality skin-friendly leather material to ensure comfort and durability. There are 5 motors and 26 airbags, making it one of the most efficient and reliable massage chairs in the market. In a nutshell, this chair offers great value for money with great comfort and pain relief.
More Options!
Apart from OOTORI, there are also a few other reliable brands, such as IREST. This brand is also known for designing top-of-the-line massage chair recliners with advanced massage features. For instance, IREST Massage Chair Recliner with full-body stretching function is a product that also offers an unparalleled massage experience. It is a luxury-looking massage chair in leather-brown color.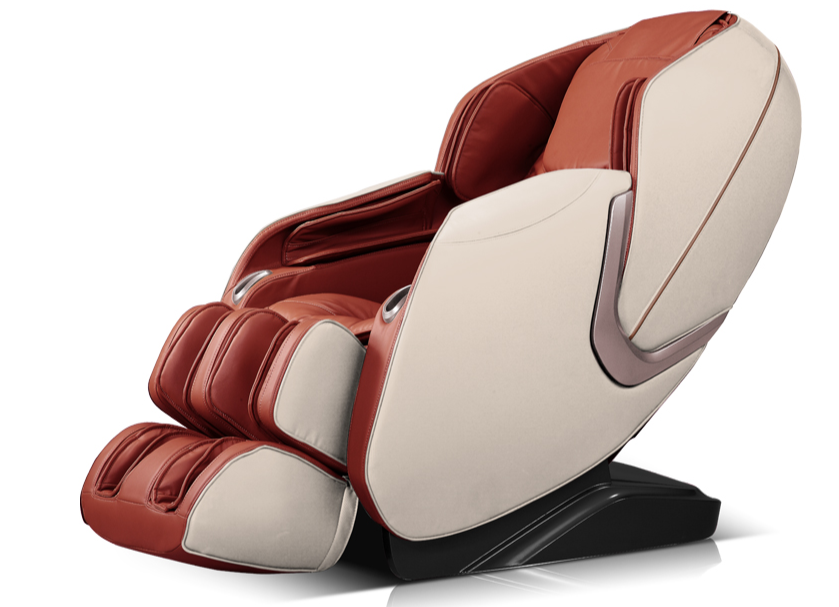 AI Voice Control is one feature that makes this IREST massage chair recliner special. You can enjoy a deep massage without using your fingers with the help of this feature. You can use this function to turn on/off massage and to activate other features.
Here are the top features of this massage chair:
Zero gravity function
SL track with approximately 53"
Yoga stretching
Handrail shortcut keys
Four massage techniques
Twelve auto massage functions
Foot & Calf massager
Heat treatment function
Bluetooth function
This IREST massage chair offers full-body airbags massage with airbags on foot, arms, shoulders, and calves area. In short, it is another reliable massage chair recliner that you can buy to get relief from body pain and fatigue.
Summary
The A900 massage chair by OOTORI is a reliable massage chair recliner that you can trust for the most effective, full-body massage. It is packed with many advanced features, such as yoga stretching, zero gravity, extendable leg-rest, SL double tracks, and three-dimensional robot hands and foot roller, etc. Because the brand sells the massage chairs directly from their warehouse, so you will get your massage chair at a reasonable price.