Detailed Reviews for Irest A306 Smart Massage Chair
Do you know what benefits a massage chair offers? Should you invest in a smart massage chair? Is it going to help you? There are a lot of questions that you can have in your mind before buying a massage chair. There are many brands manufacturing massage chairs with different features for different needs. iRest A306 smart massage chair is one of the top options available in the market. This article offers you detailed reviews for iRest A306 smart massage chair. It will help you decide whether or not you should invest in this chair.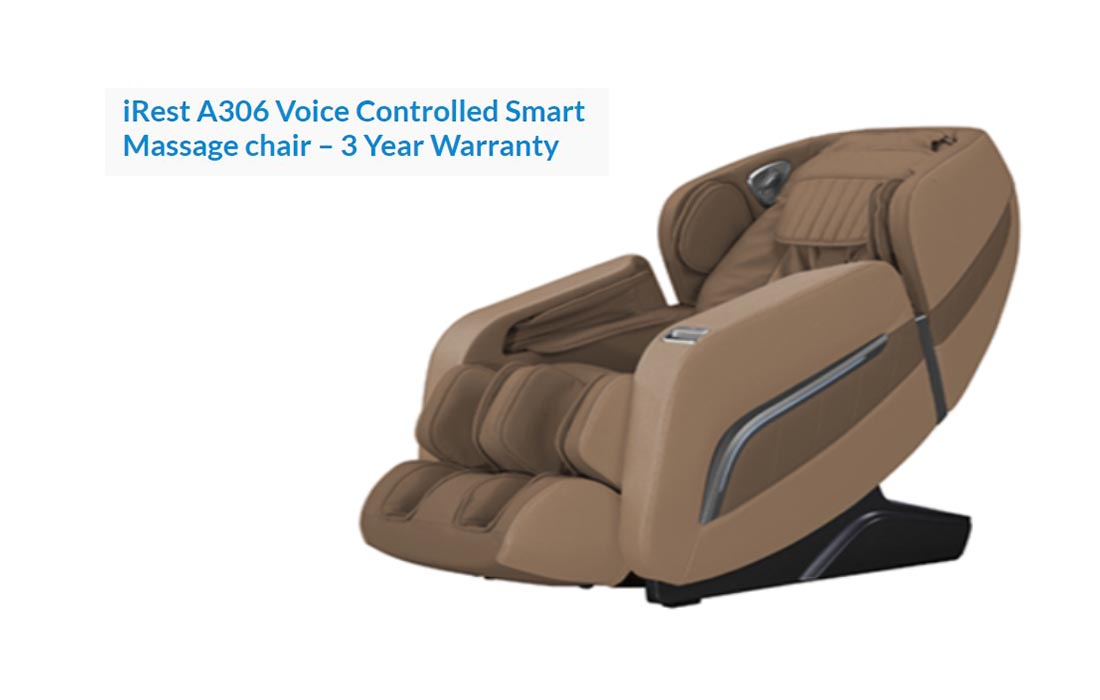 Honest Reviews for iRest A306 Smart Massage Chair
Before purchasing a smart massage chair, people often think about the benefits, features, and possible downsides of the product. You have all the rights to know the pros and cons of a product that you are planning to buy. To walk you through detailed reviews for iRest A306 smart massage chair, we will discuss the main features of this chair. We will also show you the main benefits that come with this product.
Main Chair Features
Here are the main features of iRest A306 smart massage chair:
Full Body Massage: This massage chair offers a complete body massage with features like air massage, 3D rollers, foot rollers, body scan, back heating, and zero gravity.
AI Voice Control: The chair features AI voice control. This feature lets you control massage easily through your voice commands.
SL Double Tracks: This smart massage chair incorporates its 3D rollers with a 53-inch SL-track roller. The rollers follow your spine's curvature, offering full coverage.
Zero Gravity: Zero gravity has 3 stages and the 3rd one is most reclined. Once reclined fully, the legs will be higher than the heart level. This results in a therapeutic effect that is very effective and felt immediately.
Bluetooth: Bluetooth technology allows you to enjoy your favorite music as well as phone calls. There is a pair of high-quality speakers on the chair's headrest.
Instant Access: The A306 smart massage chair comes with easy access buttons on its armrest.
Leg Extension: The foot and calf massager of the chair can be adjusted according to the leg lengths of different individuals.
Smart 3D Rollers: There are gentle quad-style rollers that offer a human thumb-like feeling. This enhances the overall massaging experience.
Apart from the above-mentioned features, the chair has some other brilliant features, like a USB and a phone holder. For more detailed reviews for iRest a 306 smart massage chair, let's take a look at the benefits of this chair.
Benefits of an Irest A306 Smart Massage Chair
The A306 offers an array of benefits to the users. Take a look at these benefits and decide is it the massage chair you were looking for.
1. Improved Post-Workout Muscle Recovery
An in-depth tissue massage, zero gravity, and heating cycles help you restore your body to the right state after your workout. A speedy recovery with tenderness gone, you will be able to resume the routine activities comfortably.
2. Reduces Stress and Anxiety
Many clinical studies have shown that anxiety and stress decrease with regular massages. A306 offers a therapeutic massage that stimulates dopamine and serotonin. It also minimizes cortisol that is a stress hormone. These actions converse an impulsive temperature and alleviate mood swings.
3. Induces Better Sleep
You would probably be familiar with insomnia. One main factor causing insomnia is the several digital devices we have today. However, there are a few lifestyle factors that cause this sleep disorder. The A306 massage chair massage can help you overcome sleep problems.
4. Relief from Muscle Pain
You may feel pain in your muscles after you exercise, play sports, or come back home after a hectic day at your job. Lactic acid causes this aching after accumulating around your muscle tissues. The soft massage of the A306 massage chair improves the blood flow that drives more oxygen, removing lactic acid. As a result, you find relief from muscle pain.
5. Relief from Lower Back Pain
One of the best reviews for iRest A306 smart massage chair is that it helps you get relief from lower back pain. Back pain is a big problem that is a common problem in 75% of adults. This can turn into chronic pain if it is there for a very long time. However, you can consider regular massage to improve flexibility that assists in managing the pain. It also offers a healing effect in the long run.
6. Enhances Blood Circulation
You can improve your blood circulation by using the A306 massage chair regularly. The chair does it because of its zero-gravity features. Zero gravity improves oxygen inhaling and managing many circulatory issues. Another benefit of massaging through this chair is that it decreases the stress that also helps in improved circulation.
7. Boosts Body Immunity
A306 massage chair ensures enhanced blood circulation, good sleep, freshens lymphatic system, and low-stress levels. All this helps in boosting your body's immune system. Many studies prove the effectiveness of massage in improving natural immunity.
8. Improves Problem-Solving Skills and Creativity
A study revealed that a perfect massage can dramatically improve problem-solving skills and creative thinking. If you are calm and have enough oxygen in the brain cells, then you will have mental clarity. So, this is another significant benefit that you can get with a regular massage of a smart massage chair.
9. Improves Workplace Harmony
Yes, you can use your iRest A306 smart massage chair in your office and it can dramatically increase workplace harmony. Massage chairs are a perfect way for relieving stress. Therefore, having this chair at your workplace will help those who are in a state of anxiety and stress.
10. Minimizes Frequency and Headaches Severity
There are many reasons behind headaches. However, the most common ones are stress, stiff neck, and insomnia. A reliable massage chair like iRest A306 can help reduce all three issues with regular massage. The headache disappears once the problem is treated.
11. Minimizes Stiff-Neck Issues
A stiff-neck can be very disturbing for many individuals, especially those who have a tough office schedule. Fortunately, the A306 massage chair can help minimize your stiff-neck problems. This chair has dedicated massage features for the shoulders and neck. So, if you are looking for a perfect solution for such problems, then this chair can be the right solution.
12. Help You Stay Mentally Fit
Mental fitness is important for every individual, especially for professionals. If you are not fit mentally, then you will not be able to perform your routine tasks well. Many people suffer from mental issues, like stress and anxiety while dealing with many things in our life. Using a massage chair can significantly help you against stress, sleep disorders, and anxiety, etc. This results in giving you an energized feeling that makes you mentally fit.
There are many other health benefits apart from the above-discussed that you can enjoy with a massage chair. These chairs are a perfect way to keep you fit physically and mentally.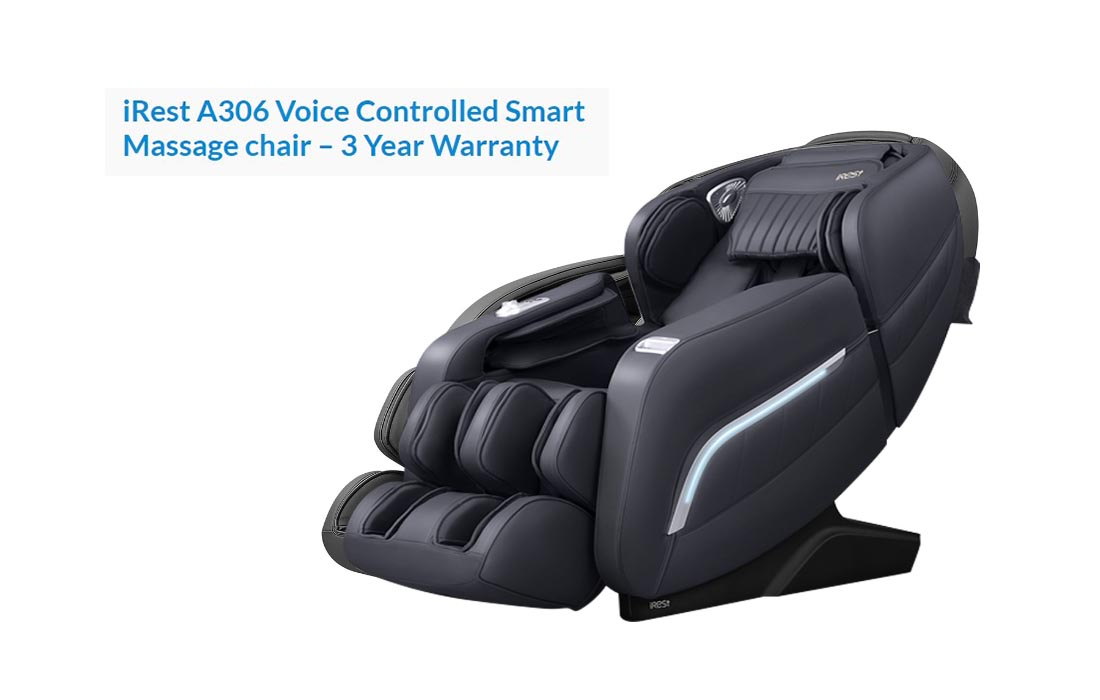 Conclusion
So, we went through detailed reviews for iRest A306 smart massage chair. It concludes that an iRest A306 smart massage chair at your home or workplace is necessary for many reasons. It will ensure wellness and a happy temperament with its massage. The chair has many great features, like Bluetooth, zero gravity, AI voice control, and smart 3D rollers, etc. that make it a better option among many others.
For More Products, Visit Our Website!