This position decreases weight off of your spine, lowering your blood pressure by reducing the load on your heart, stimulating circulation to the extremities, increasing the depth and effectiveness of the massage.
Full Body Air Compression Massage
The air bags offer a compression massage to the neck, shoulder, arms, thighs, calves, and feet. In the manual settings, you can independently turn on and off any region of the airbags.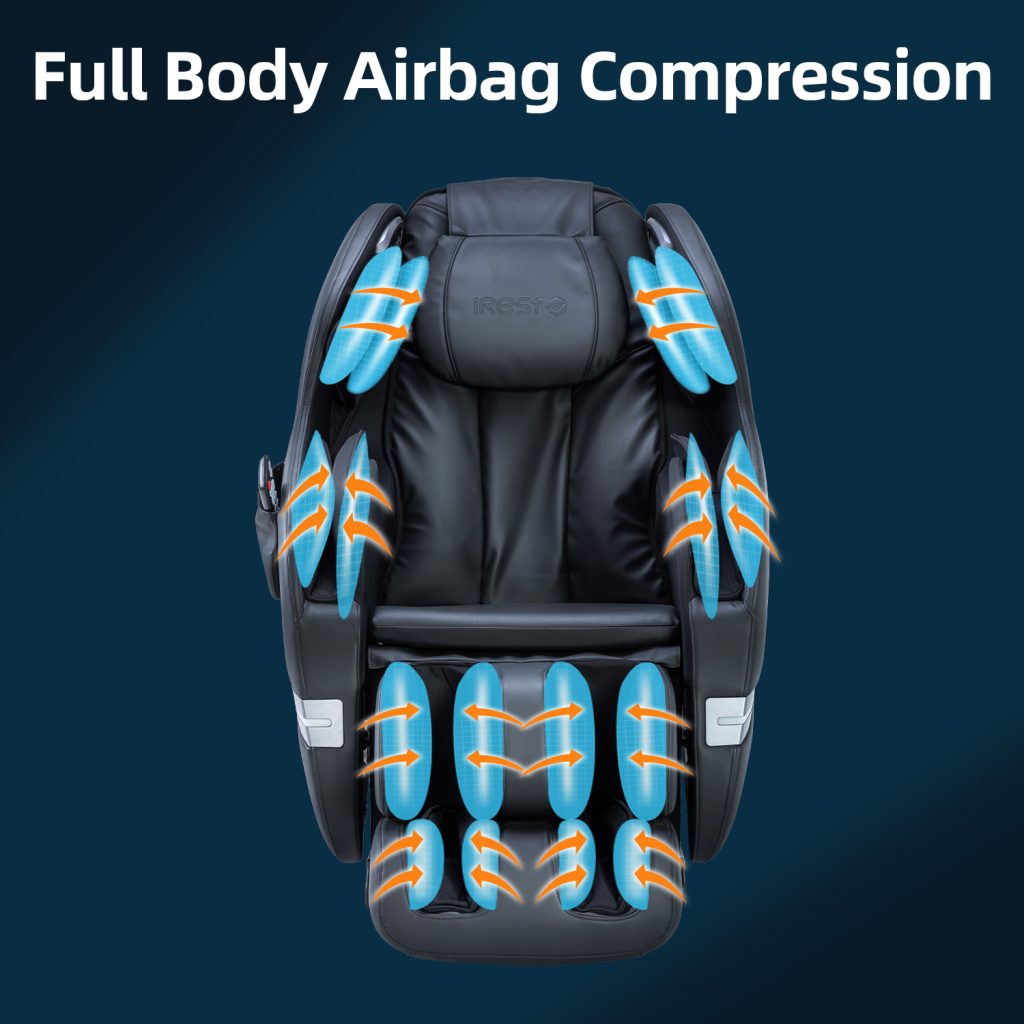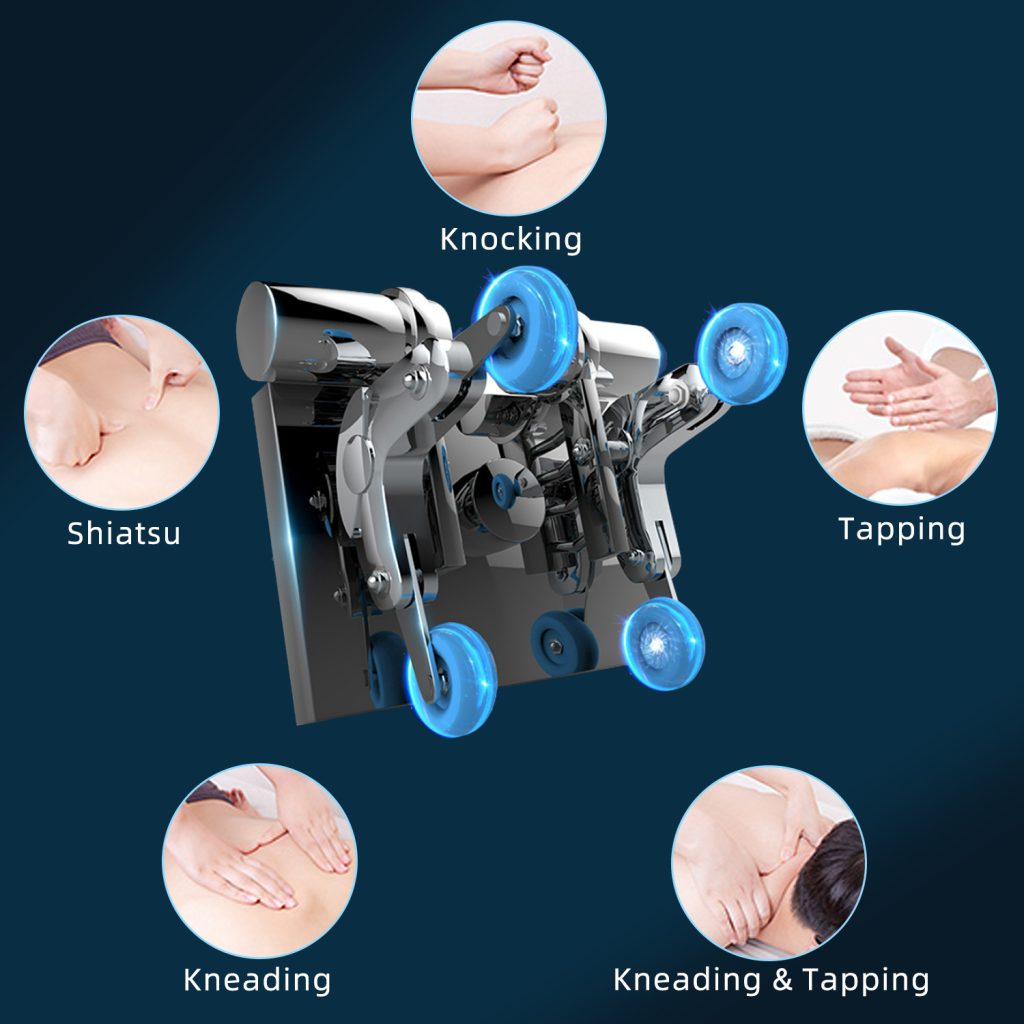 Intelligent mechanical hands
Intelligent mechanical massage hands constantly collect data on the curve of the back, emulating massage techniques employed by professional massage therapists, in order to offer you a stereo, multidimensional aspect massage. The intelligent massage hands emulate the methods used by professional massage therapists, in order to perform the following types of massage: kneading, squeezing, flapping, pressure, pushing, gripping, swinging and twisting.
The S-shaped curve that supports the body involves a combination of back massage structures and human engineering principles, so that you may enjoy a highly accurate back massage. It provides support to both your neck and back, especially the lumbar area. This position increases the effects of massage as it enables each disc of our spine to individually separate and decompresses, allowing nutrients to enter disc tissues.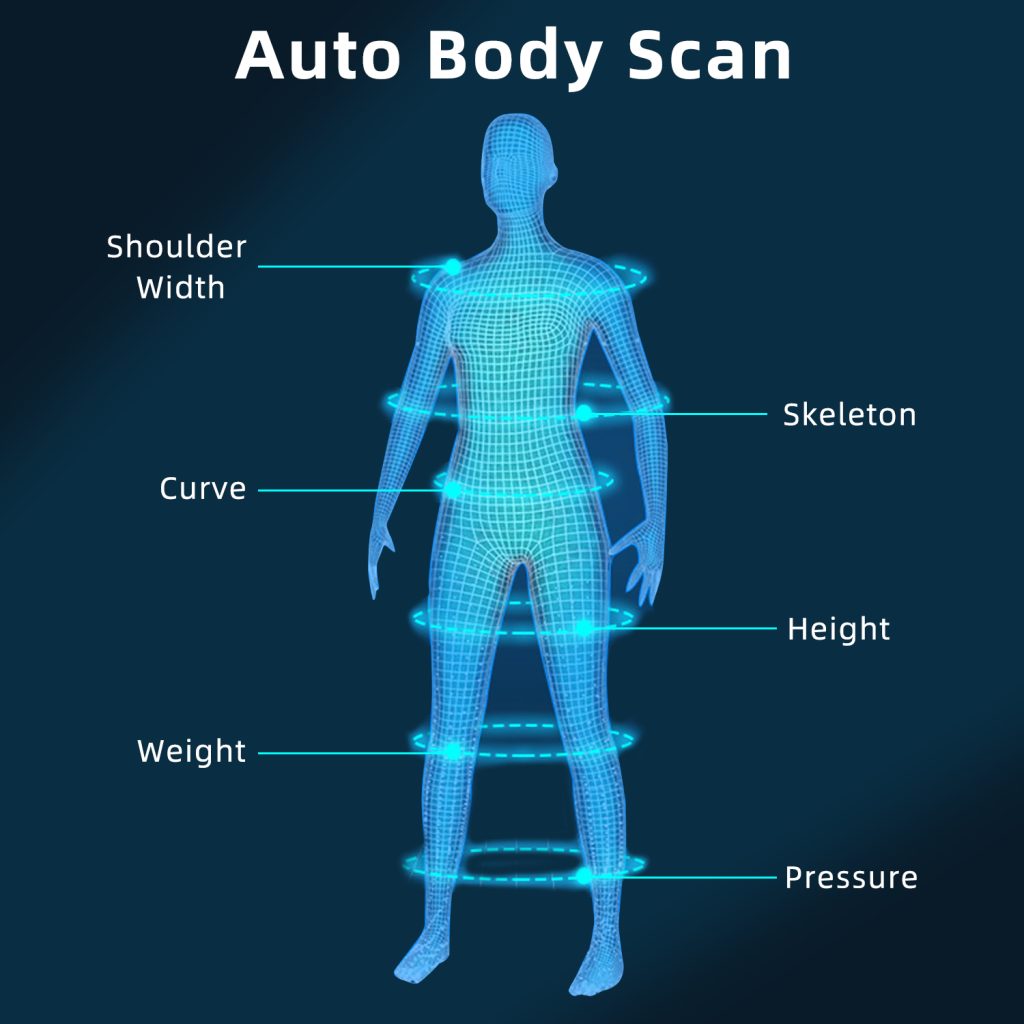 Auto body scan refers to your body height, weight, and spine data detection, then adjust a proper massage position to match your neck, back, waist, and so on. The smart system scans your back and delivers a massage that contours the unique spine curve of each individual user of the chair.
The intelligent mechanical massage hands can move up and down on the neck, shoulders, back, and waist. They can automatically induce the specific curve of the human back, with a width range of 21 cm and a back range of 135 cm, which covers the entire back. The width can be adjusted from 6 to 21 cm, with three width options.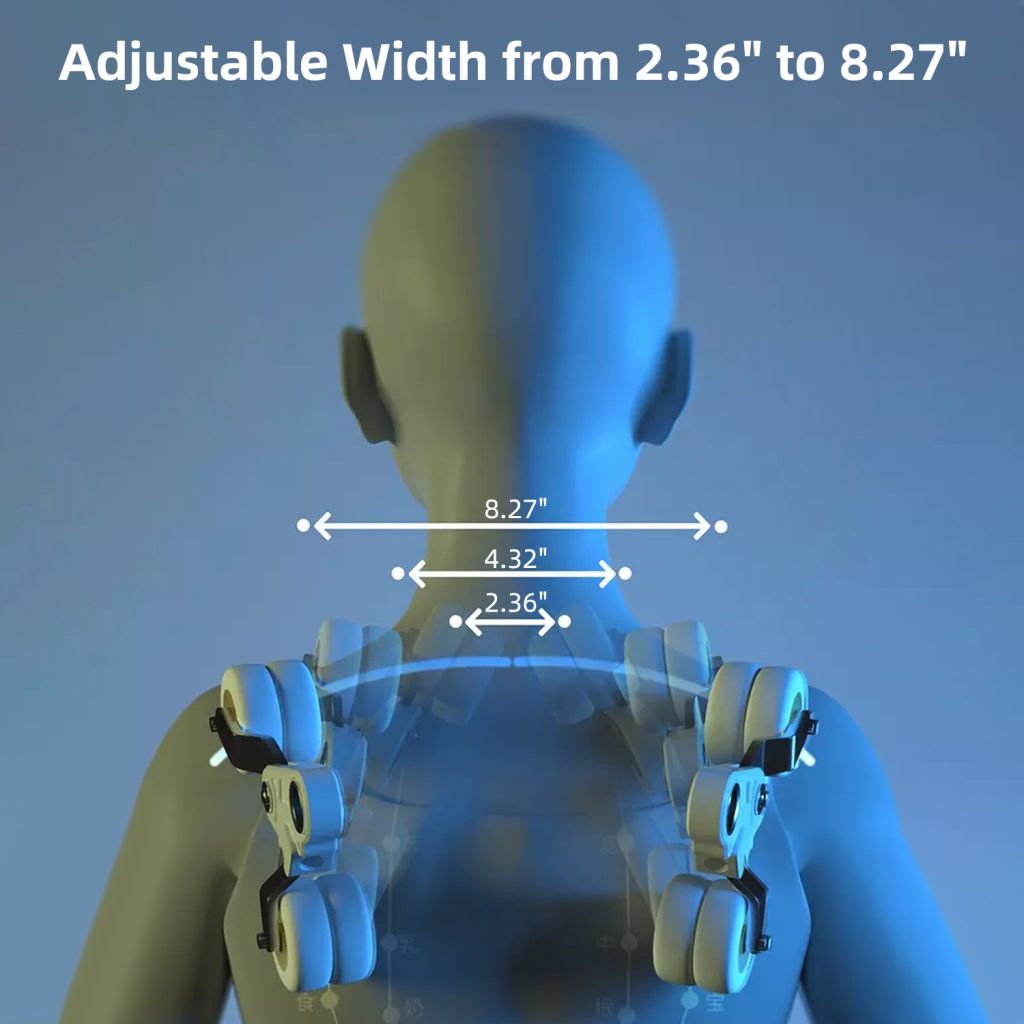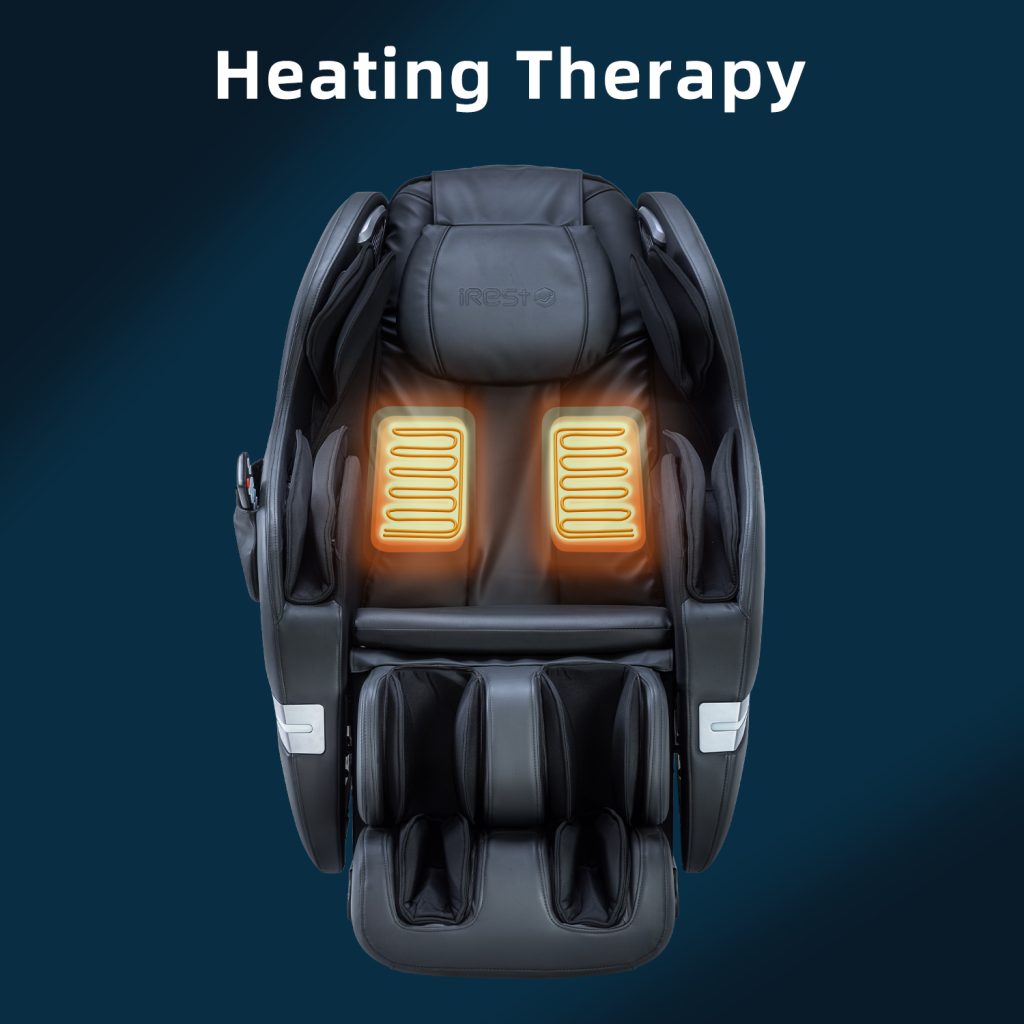 Heat is provided to the lower lumbar region of the spine which helps relieve lower back tension and relax the underlying muscles and joints.
Located on the bottom of the footrest is a spinning reflexology massager which provide a soothing kneading style massage. When the rollers spin, it will stimulate the acupuncture points while the airbags inflate for a deeper massage.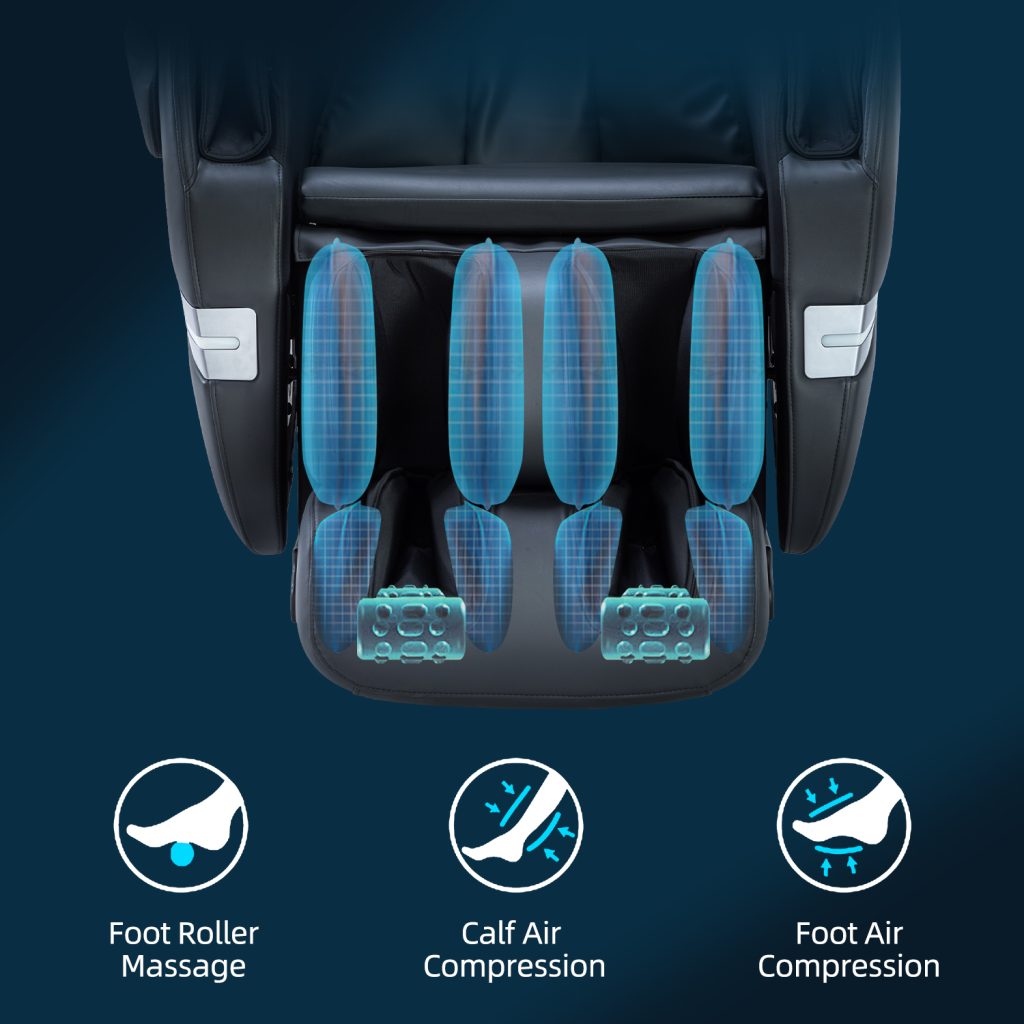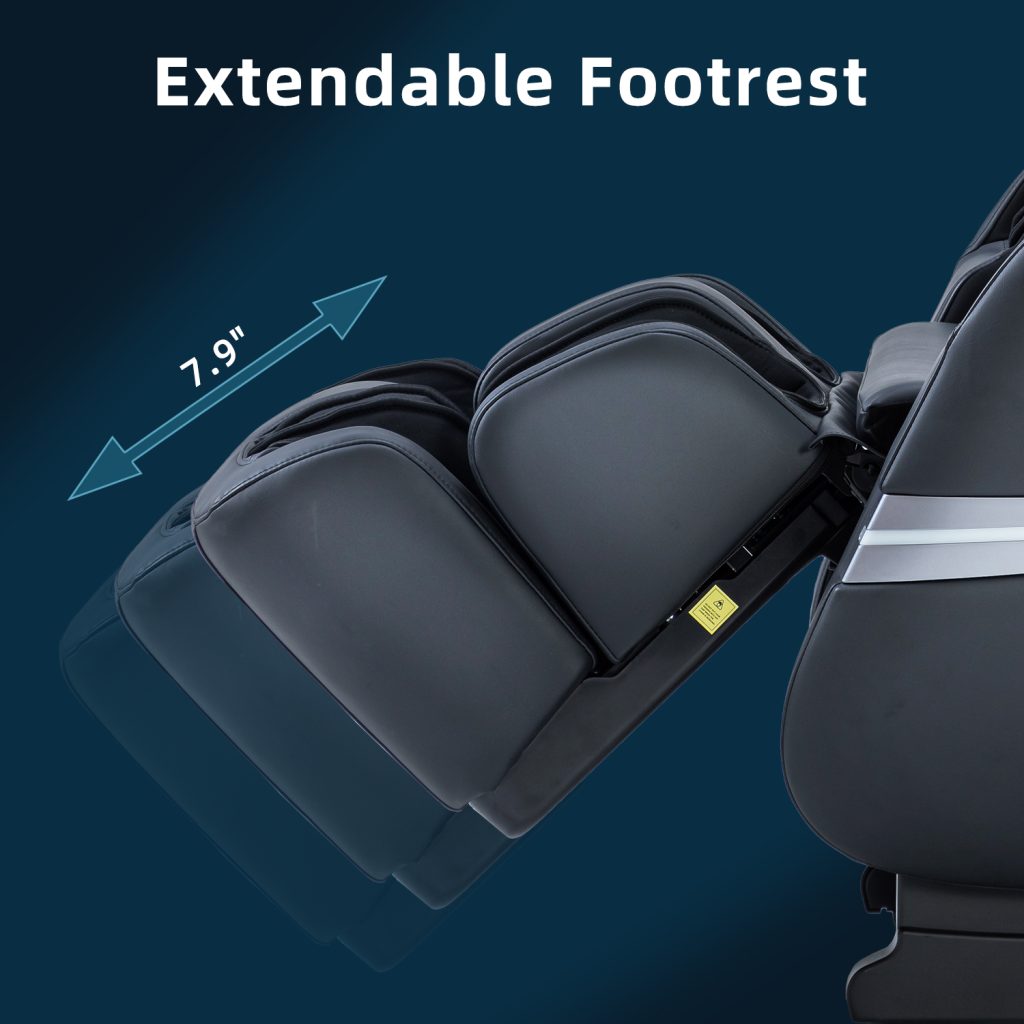 The calf and foot massager can be adjusted according to each person's leg length.
Model
MF 600
Rated Frequency
60Hz
Rated Voltage
AC120V
Rated Power Consumption
100W
Cover Cloth
PU synthetic leather
Timer
15/25/30 minutes
Weight Capacity
6.25FT / 330 LBS
Dimensions
Main Unit: 43.3″ x 23.22″ x 18.50″
Backrest: 38.97 x 17.51 x 24.21"
Armrest: 43.11″ x 13.77″ x 21.85″
Gross Weight
Main carton: 92.59LBS
Backrest carton: 55.66LBS
Armrest carton: 44.53LBS
Net Weight
Main carton: 87.41LBS
Backrest carton: 49.16LBS
Armrest carton: 37.91LBS
Length of the wire
Controller wire: 70.8"
Power supply wire: 70.8"
Usage condition
Environment temperature: 10c -40c
Contrasting humidity: 30-85RH
Safety feature
Equipped with overheated and power surge safe protection
***Notice: This product is not suitable for people with high blood pressure and heart disease.
Finally
My chair was delivered within a timely manner. Upon set up, I noticed a issue. The problem was quickly resolved and the chair is fully functional. Well worth the money for any hard working person…
Easy to use and Functional massage chair
I love the versatility of the chair, especially the zero gravity position. It's easy to use and the remote has all the information needed to operate it.
A full body experience
It arrived on time, was easy to install, and works a treat. The lower body is very strong, the upper body is lighter (would be nice if it was stronger) and the neck area was pretty ineffective. But overall, it's definitely very relaxing + offers a good middle to lower back experience so I'd say does the trick. It also rotates horizontally which is really useful, to help you relax.
This is a very comfortable chair
The chair looks very nice and is easy to use.
Good for back massage but not much else
It looks even better than its' pictures. If you are looking for a chair to massage your back, this one is great. However, the rest of this chair does little. In fact, the rest of the chair is basically about squeezing your calves and hands and even that seems too light.