Massage Chair for Sale: Finding the Right One
Massage therapies have been in practice since ancient times, but now massage chairs have decreased the human effort and have become a lifesaver.
A massage chair for sale is something that you crave after a long and hectic day. It improves your blood circulation, reduces stiffness in your muscles, induces better sleep, enhances post-workout muscle recovery, and is an ideal solution for lower back pain.
The maximum you can use a massage chair is one to three times in case of stress and three-four times for lower back pain. If you still don't have a massage chair at your home, we recommend you buy one, and you will thank us later.
Buying a massage chair for sale is also not an easy job. If it is your first time and you don't know anything about their functionalities, you don't worry! This guide will help you buy your dream massage chair with maximum features.
Buying Guide to Massage Chairs:
While buying the massage chair, consider the following components;
Functions of Massage Chair
There are plenty of options available in the market for massage chairs. The prices of these chairs also vary as per versatility. The high-end massage chairs usually have more options than simple vibration and rollers. To relax your muscles, high-quality massage chairs have reflexology, tapping, heat, zero gravity, shiatsu, inversion therapy, and kneading. We recommend you look for diversity when purchasing a massage chair, just like the one pictured below.
| | |
| --- | --- |
| Features | |
| Auto Body Scan.Intelligent Mechanical Hands.S Track.Full Body Air Compression Massage.Zero Gravity.Carbon Fibre Heating.Foot & Calf Massage.Extendable Footrest.Auto Massage Programs. | |

Multiple Massage Positions
The advanced massage chairs have diversified a lot, and they give you a thumb-like massage to supplant a complete therapy. The massage chair uses multiple airbags to squeeze arms and legs via an air compressor fitted in the chair. The deflation and inflation of airbags give a tapping effect to massage.
Massage Rollers
Once you decide to get the massage chair, look for the one with a good range of rollers. Mostly the chairs have these rollers customized on height or width.
Massage Airbags
Airbags are an essential feature to look for in a massage chair. The combination of airbags and rollers in a massage chair makes it ideal. These are the small pouches mostly located on sides, legs, and back.
Heat Massage
The advanced massage chairs have the heating option on the seat or at the back through infrared heat. Moreover, it adds on relaxing muscles and increases the efficiency of the chair.
Massage Programs
The pre-programmed massage options give timed massages with targeted areas of the body. The body mapping technology of these chairs also reacts and customizes the massage plan accordingly.
Massage Power
The massage chairs have a motor inside, and the increased number of motors means increased massage power. Over time, our body gets used to the accustomed chair and will require a little more vigorous massage, so it is advisable to look for a massage chair with multiple motors to make it last longer.
Recline Function:
The recline function like zero gravity places your body in a neutral position and boosts healthy circulation. Along with reducing tension and lower heart rate, the modern massage chair gives you ultimate control with a single touch option. It will give you a deeper massage while significantly boosting the efficiency of the massage chair.
Chair Upholstery
Prefer buying the synthetically fabricated chair. It will increase the life of your chair by preventing tears and wear. They are engineered to withstand heat and are the best fabric as compared to leather.
Space Saving
Buy the massage chair by analyzing your space. Select a massage chair that has a space-saving feature.
Nice to Haves
Other specific features to look for while purchasing a massage chair include:
Reflexology
Bluetooth and App functionality
2D, 3D and 4D massage rollers
MP3 Support
USB Port
LED Light Glow
The possibilities are endless as technology has advanced. Look for the best product available in the market within your budget and available space.
When to avoid massage chairs?
Under some medical conditions, it is advisable to avoid massage. These medical conditions include certain forms of osteoporosis or arthritis, burns, lesions, cancer, deep vein thrombosis (DVT), extremely high blood pressure, blood clots, nerve damage, cancer, or fracture.
Best Massage Chairs for Sale:
Following are some of the best massage chairs available in the market to relax your muscles.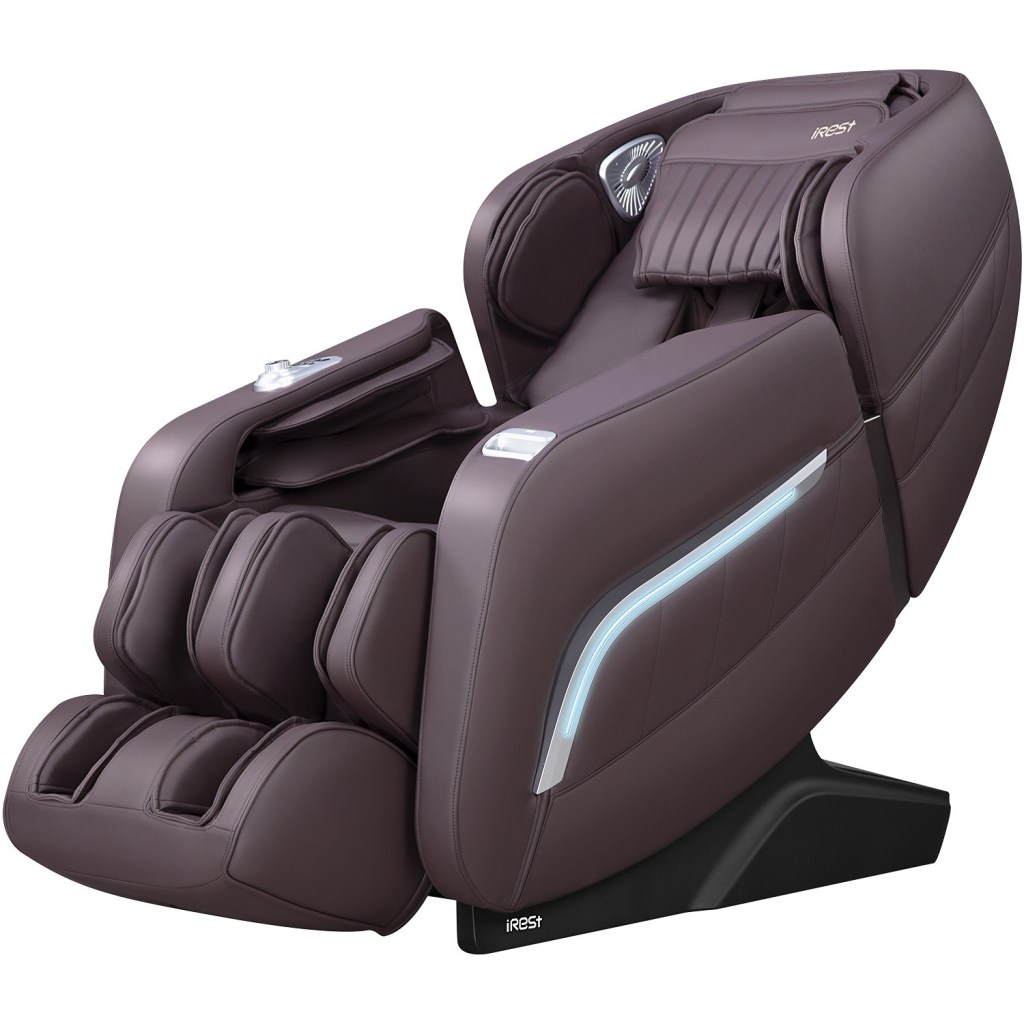 | | |
| --- | --- |
| So iRest A188 Full Body Shiatsu Zero Gravity Massage Chair for sale – 3 Year Warranty Auto Body Scan SystemIntelligent Mechanical HandsS TrackFull Body Air Compression MassageZero GravityCarbon Fibre HeatingAuto MassageFoot $ Calf MassageExtendible Foot Rest3 Year Warranty | |
| iRest A303 SL-Track 3D Robotic Massage Chair for sale- 3 Year Warranty Auto Body Scan SystemIntelligent Mechanical HandsDouble SL TrackFull Body Air Compression MassageZero GravityCarbon Fibre HeatingAuto MassageFoot $ Calf MassageExtendible Foot RestBluetooth Speaker3 Year Warranty | |
| iRest A306 Voice Controlled Smart Massage chair for sale- 3 Year WarrantyHand Rail short cut keyAl Voice Control3D rollersInstant AccessAuto Body Scan SystemDouble SL TrackZero GravityAuto MassageLeg ExtensionUSB and Phone Holder3 Year Warranty | |
| A900 SL-Track 3D Robotic Massage Chair for sale 6 Massage TechniquesAl Voice Control3D rollersThai Yoga StretchingAuto Body Scan SystemDouble SL TrackZero GravitySpine Massage TherapyLeg ExtensionLower Back heat and VibratorPre-Assembled3 Year Warranty | |
Is Buying Massage Machine Worth it?
If you are a massage freak and often visit the spa for therapies, then massage machines are definitely considerable. Yes, they are cost-effective as compared to day-to-day massage therapies. It would save you a lot of money. Also, it will save your time that you spend visiting the spa and then sometimes wait also.
Massage chairs are for everyone who wants to make his life easy, and our robotic lifestyles will soon make it a necessity in every home.
Things to Consider while buying a Massage chair:
Besides all the component mentioned above, the five basic things that you should consider before purchasing a massage machine are;
Your Budget is restricted for buying a massage chair.
The location you want to place the massage machine.
The durability of the massage machine.
Ease of Repair in case of mishaps.
Warranty and customer care service of the brand.
Final Verdict:
The massage machines are not a luxury but a necessity of life if you prioritize relaxing your body at the end of the day. It gives you mess-free massage therapy in the comfort of home. This buying guide will help you to get your dream massage chair to relax your nerves. What would be more exciting than getting a super comfortable massage chair for sale? Just get it on sale by visiting www.massagechairmax.com.