MassaMAX MT339 is a brand new 2023 4D smart massage chair. It is a very worth buying whole body relaxation product.
With a flexible 4D massage robot, 15 automatic massage programs, and multiple high-end designs, you can enjoy a new massage experience at home.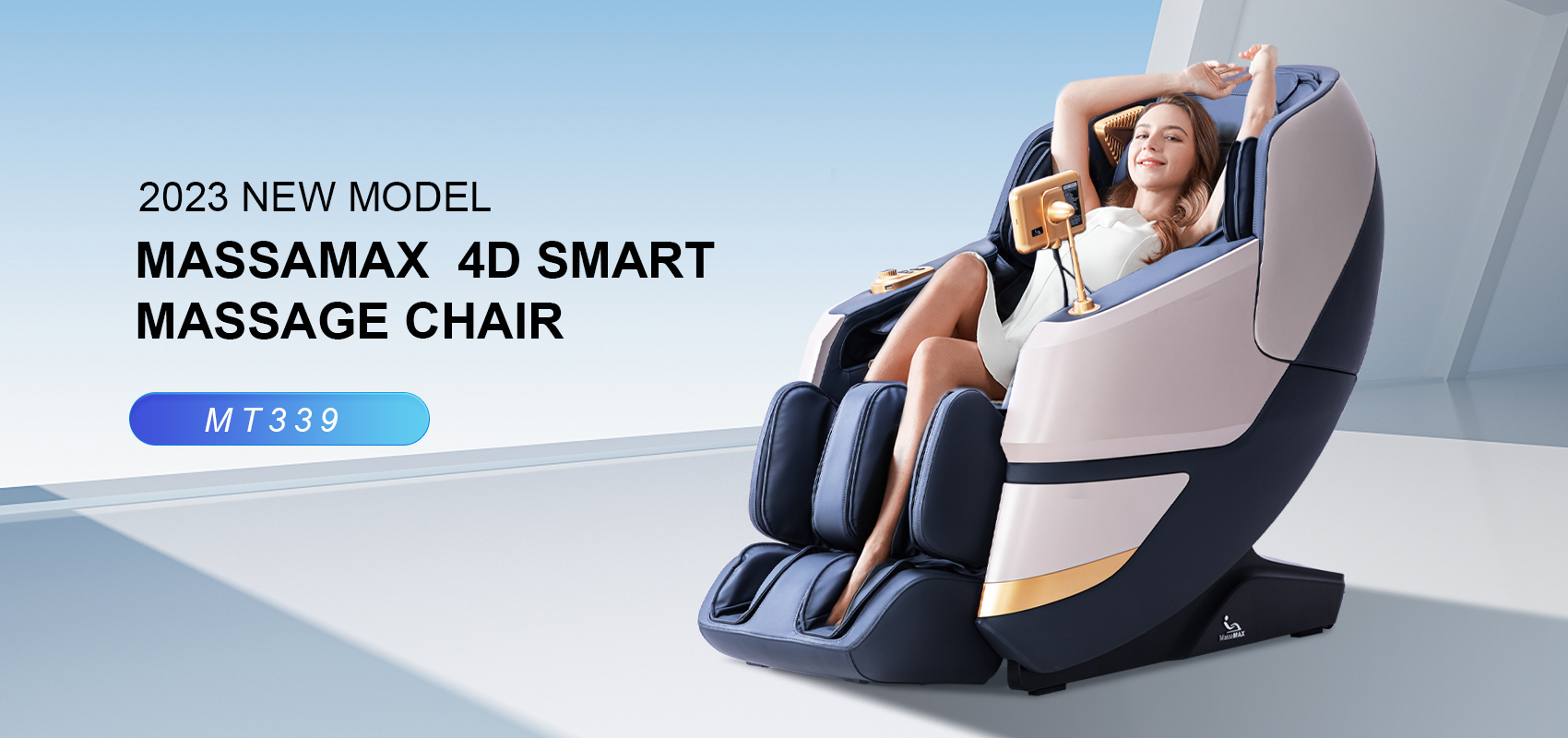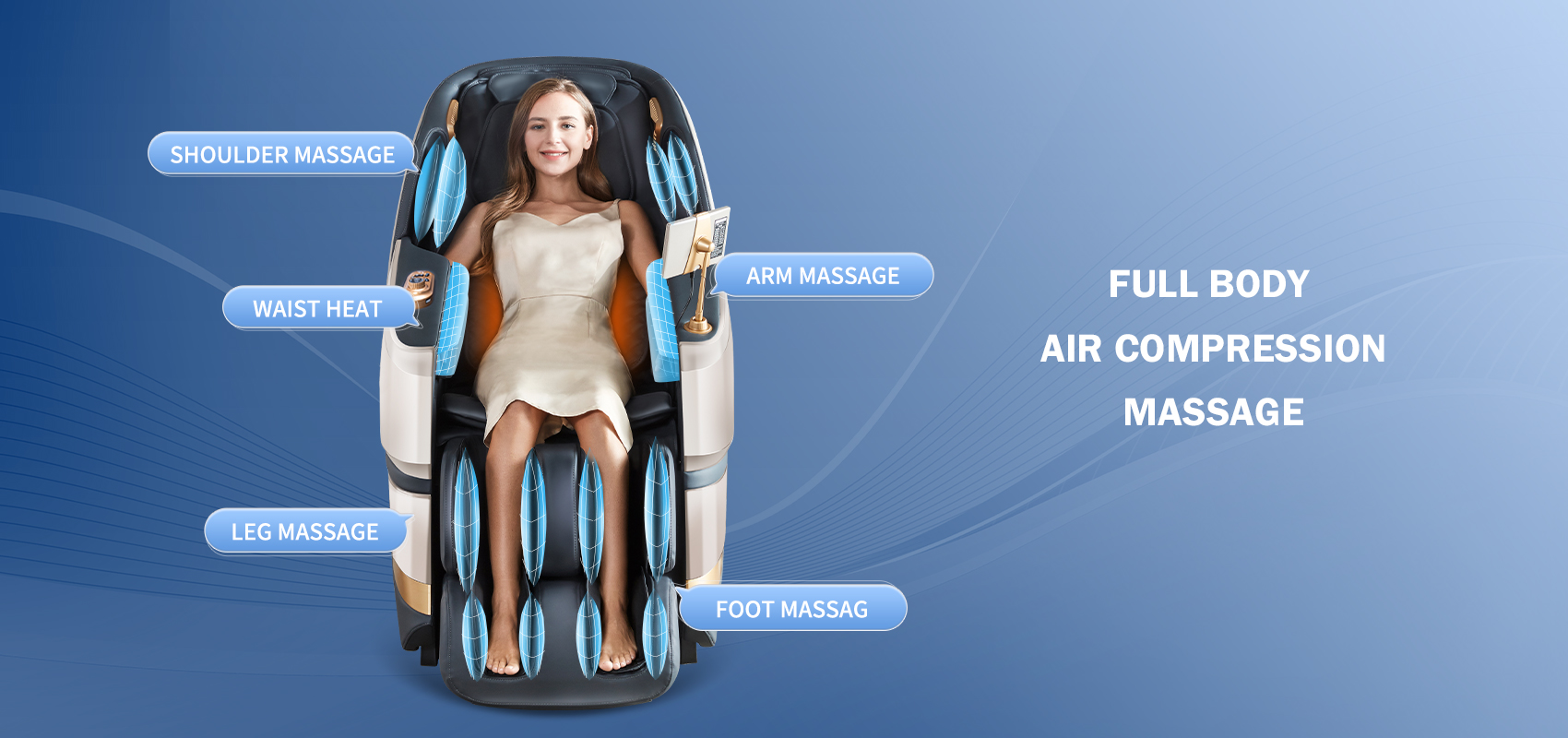 ADVANCED MASSAGE

Precise Massage, 4D Bionic Manipulator
MT339 adopts a flexible manipulator. The new elastic structure can intelligently match the massage intensity according to the hardness of different parts of the human body so that different stress groups can enjoy a comfortable massage without pain. At the same time, the massage techniques such as finger pinch and acupressure are highly restored to reach the deep sore muscles and quickly relieve the fatigue and soreness of the body.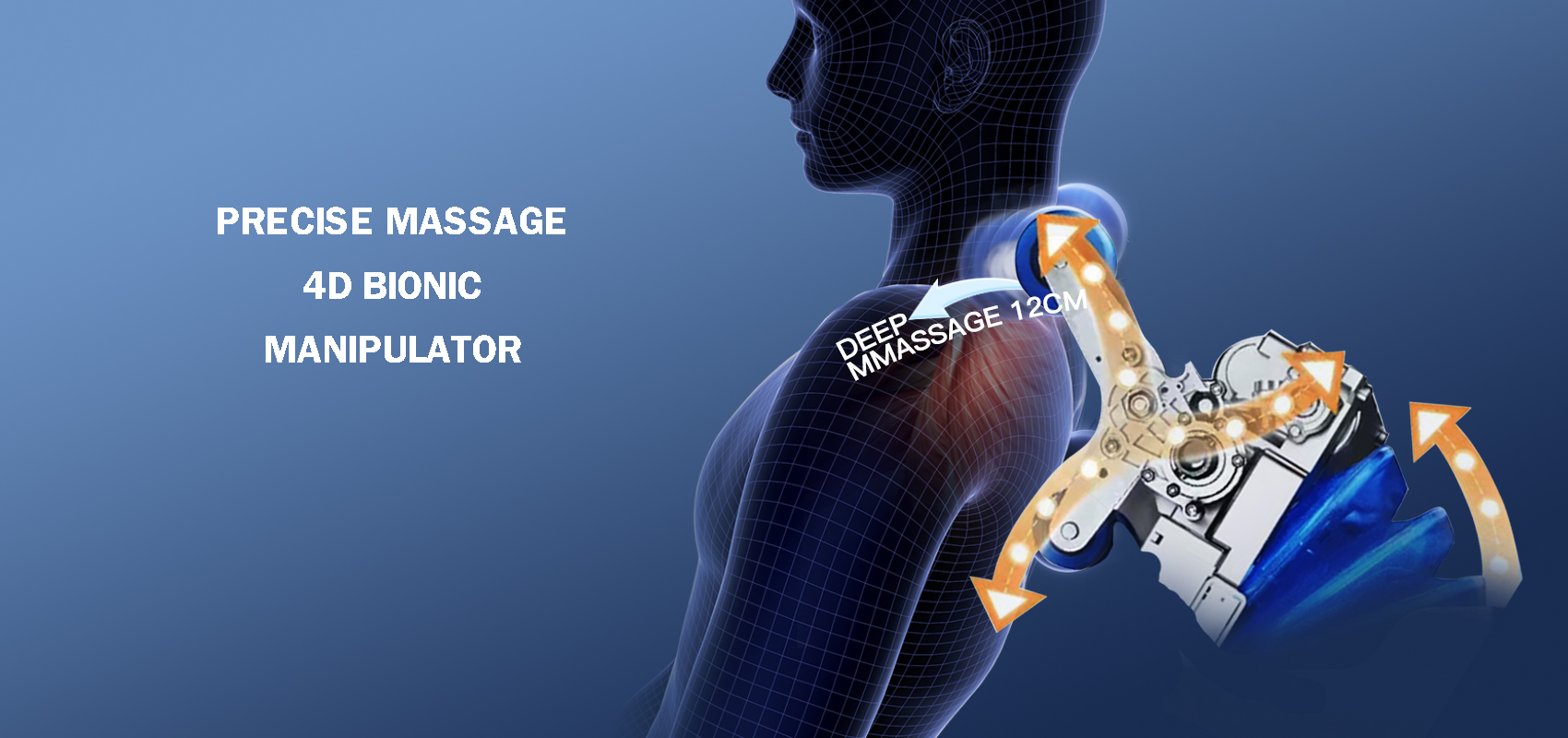 Combined with human engineering and studied super long"SL" shape space curved rail technology, Massage distance is 53.15", makes you enjoy a personal massage from the neck to the leg, helps to maintain the human body vertebra "S" shaped curve, achieves relaxing the spine and relieve tense muscles.
Built-in voice control can be adjusted at any time during massage, making massage more convenient.
Automatic body detection function
The flexible manipulator automatically detects and fits the neck, shoulders, back, waist, buttocks, and other parts of the human body, making it more docile and accurately rubbing every soreness.
Touch Screen Control, Program Memory Function.
The user-friendly touch design makes the operation simple and free. Individual massage programs can be customized for different body types and requirements. The next time you use the chair, press the memory button to enter automatic memo mode and enjoy an intimate massage.
Yoga Stretching Function Space Capsule Zero Gravity
Designed for relieving pain and stiffness on muscle especially, simulate Thai stretching back muscle, loosening muscle and bones, relieve fatigue.
There are a variety of acupuncture points on the human foot. The three-stage (forefoot, sole, heel) linkage covers the whole foot, stimulates acupressure points, squeezes and pushes, and stimulates the points. Its quick release of foot pressure makes you enjoy the feet spa at home.
Rated Voltage:110v-60Hz
Rated Time: 10/15/20/25/30 Minutes
Net Weight:192 LBS
Packing weight: 236 LBS
Shipping Box Dimensions: 63.4"*29.52"*33.46"
Max Load Weight: 300 LBS
Recommended Height Range:6.1 ft
Required Recline Clearance: 1.9"
Safety Structure: Class I
Noise:≤50 dB
 
***Notice: This product is not suitable for people with high blood pressure and heart disease.
Overall very relaxing, but skinny people watch your lower back/pelvis
I'm smaller (low muscle tone 126lbs), my husband is all muscle (200lbs), and we both enjoy it!
Definitely customizable, but YES, it's strong!! Great foot rollers, excellent arm squeezing, and cool that the shoulder air bags can hold your shoulder down while the back rollers press into you. Only complaint is a couple programs have the lower back coming out too much and the rollers actually squeeze the muscles in towards your spine rather than pushing the muscles away from the spine. Gave me the heebie-jeebies and the next day I noticed it actually bruised my lower pelvis bones,, and I'm in my 30's, I do not bruise easily.
Luckily there are many other programs that don't do this-and customizable settings to make your own that you can access with one button. The strength is perfect for my husband, but I cut a piece of a pretty yoga mat for padding for that lower back spot. Tried stretching away from it, but it still lifted up too high for me to get away. Other than this, most of the programs are fine. If a person with more fat or muscle on their lower back was in it, they'd probably be comfortable.
Was on the fence about the 4D for more money, but reasoned that if a space ship chair is going to take up space in my living room it better be good--so went with 4D. I work too many hours in a high labor, highly emotional, and mentally challenging job. This chair has been a significant part of helping me get my mind to relax and body comfort back. I like that I can turn the back off but leave the feet and neck on so I can still read or focus on a tv show while I'm in it for just a few minutes or go all out and kick back for half an hour for a full body massage.
Was worried about our cat (who has an obsessive prey drive) checking out the motor sounds under the raised foot-rest at first, but once we chased him away and ran it several times he was bored with it and uninterested. Adding a blanket with the heat and music on is extra nice!
Go for it!
I have wanted and researched massage chairs for sever years but just couldn't take the plunge! I look at reviews and research on customer service. I decided on this chair bases on the great reviews of their 2022 3d chairs. The 4D has the ability to change the amount of pressure on your back. This is a very important factor for me. It also has a wonderful foot massage on your feet. Makes them feel wonderful. Most chairs make you feel nothing in feet. I have neuropathy in feet and legs and really feel wonderful like they had a hand massage. I also have rhomboid muscle that knots up. In manual mode it can massage just that area u need which is a great feature. The heated back helps a great deal too. I purchased chair and it was here In about 5 days! When it came in I could not find instructions for foot piece to be attached. It was actually last couple page of user manual. I went on chat line after bussiness hours and they chatted with me. Then then the ceo out of Atlanta Georgia said he would call me on duo and help me! I gave him my number and he called and in 3 to 5 minutes we had foot piece attached and char working. Remove 2 screws and put in place and replaced screws plugged in electric part and air tube. Easy peasy! The ceo said he was working late and glad he could help. Answered any questions I might have. I am extremely impressed! I have only has it a week so can not speak to longevity but if like 2022 reviews it will be great. I believe that the few hundred extra fo the 4D is well worth the dollar. Very well made it appears. Hope this helps someone on the fence. You will be so very happy💯😎👌
MassaMAX MT336 4D Full Body Yoga Stretching Smart Massage Chair